Siemens LOGO!
De LOGO! 8.2-logicamodule van Siemens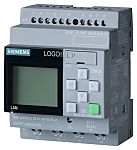 Bespaar ruimte in de schakelkast en realiseer met LOGO! functies zoals; timer, tijdrelais, hulprelais en teller. Dankzij de eenvoudige installatie, met minimale bedrading en handige programmering, kunt u met de LOGO! vrij eenvoudig kleine automatiseringsprojecten implementeren.
LOGO!-reeks - Uitgelichte producten
Toepassingen met LOGO!
Vaak zijn het kleine hulpmiddelen die het werk gemakkelijker maken.
Hier vindt u suggesties en ideeën die u kunt aanpassen en integreren in uw oplossingen.
Basiskennis Siemens LOGO!
Deze
e-learningtool
leert u de basisprincipes van LOGO!, die altijd geldig zijn, ongeacht de versie.
(Adobe Flash noodzakelijk)
Ontdek de SIMATIC IOT2020
De SIMATIC IOT2020-gateway is compatibel met de meeste Arduino-plannen die rechtstreeks vanuit Arduino IDE kunnen worden gedownload. Dankzij de X1000 SOC-controller kunnen veel andere programma's worden uitgevoerd of gecompileerd onder Yocto Linux. Met open of industriële protocollen zoals Modbus, REST en MQTT of Profinet kunnen hardware van derden, PLC's en sensoren van een grote verscheidenheid aan fabrikanten worden geïntegreerd via ethernet of serieel.