CK Hand Ratcheting Crimping Tool for Insulated Terminal
RS-stocknr.:

343-8824

Fabrikantnummer:

430021

Fabrikant: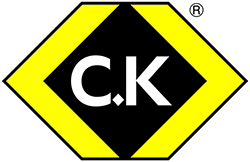 Bekijk alle Crimp Tools
---
6 op voorraad - levertijd is 1
werkdag(en)
(EU-voorraad)
133 op voorraad - levertijd is 3 à 5 werkdagen
(UK-voorraad)
| | |
| --- | --- |
| Aantal stuks | Per stuk |
| 1 + | 54,47 € |
RS-stocknr.:

343-8824

Fabrikantnummer:

430021

Fabrikant:
Wetgeving en conformiteit
---
Productomschrijving
Ratchet crimping tools for insulated terminals
A set of crimping pliers from C.K. have been designed with professionals in mind for the safe and secure crimping of flat insulated terminals and plugs. Heavy-duty frame and jaws made from hardened carbon steel, offer a long life and hassle-free operation. Handles guarantee an anti-slip, safe and comfortable grip.

Features and Benefits:
• A highly durable hand tool designed for professional use
• Frame and jaws made from hardened carbon steel for improved durability and long life operation
• A lifetime of up to 30000 cycles
• High compression pressure ensure secure crimping
• Especially designed Deadlock system increases safety and delivers precise crimping
• Features Quick release lever for ease of use
• For use with insulated terminals, red, blue & yellow, 0.5- 6mm square, AWG20-10
• Dies are suited to different crimp ranges (DIN colour coded)

Typical Applications:
• Maintenance & repair
• Electrical Installations
• Cable assemblies

FAQ's:
What is the difference between un-insulated and insulated crimp tools?
Un-insulated crimp tools are typically used for general applications, whereas the insulated crimp tools have been VDE tested up to 1000 V, designed for use where electrical current is present.

How do you maintain the product?
• Axles and other movable parts should be regularly lubricated.
• Lubrication* is recommended at least every 10,000 cycles whenever the tool is exposed to contaminants
• Adjustment of the crimping die nests should also be checked. Readjustment of the pressure adjustment axle is necessary when the pre-load of the tool decreases significantly.

The Importance of a High-Quality Crimp
When a crimping tool is used on a terminal, two crimps take place at the same time. One is the electrical connection between the conductor and terminal. The other is the insulation crimp which provides strain relief against vibration and tension. It is important that the electrical connection is gas-tight without any voids between the wire strands and the terminal. If there any voids present, then corrosion can occur causing resistance and excessive heat which damages the electrical connection. Using a good quality crimping tool will ensure that a full, gas-tight crimp is produced preventing future deterioration of the electrical connection and insulation breakage.
---
Specificaties
| | |
| --- | --- |
| Kenmerk | Waarde |
| Crimp Tool Type | Crimping Tool |
| Operation | Hand |
| Crimp Connector Type | Insulated Terminal |
| Ratcheting | Yes |
| Overall Length | 220 mm |