RS-stocknr.:

655-2872

Fabrikant:
Bekijk alle PCB Headers
---
40 op voorraad - levertijd is 1
werkdag(en)
(EU-voorraad)
60 op voorraad - levertijd is 3 à 5 werkdagen
(UK-voorraad)
Prijs Each (In a Bag of 20)
Aantal stuks
Per stuk
Per zak*
20 - 480
€ 5,381
€ 107,62
500 - 1480
€ 4,843
€ 96,86
1500 - 3980
€ 4,305
€ 86,10
4000 - 7980
€ 3,767
€ 75,34
8000 +
€ 3,498
€ 69,96
*prijsindicatie
RS-stocknr.:

655-2872

Fabrikant:
Wetgeving en conformiteit
---
Productomschrijving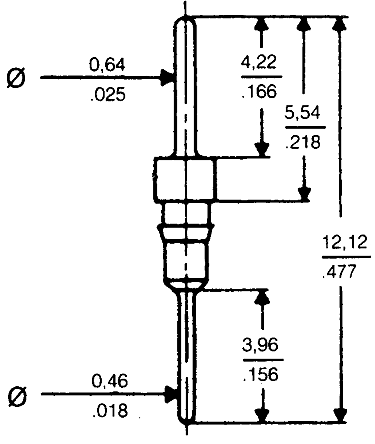 RS PRO, 20-Way, 1 Row, Straight Pin Header
Straightforward and time-saving, this PCB (printed circuit board) pin header is an effective way to connect two PCBs. It allows you to easily separate the boards again if any problems crop up afterwards, and there's no soldering or wiring necessary. Easy assembly means this pin header is useful for prototyping as well as permanent solutions.

The pin header has a 2.54 mm pitch and it can be easily snapped to achieve the required length. It features through-hole mounting and solder termination, which enables simpler, more permanent connections. The contacts are made from brass with a gold plating to limit the impact that oxidation, corrosion and degradation can have on your PCBs.

The housing of this PCB pin header is made of black glass-filled PBT, a material that has been certified UL94 V-0, for a good level of flame-resistance. This type of component will be suitable for most bussing, board-to-board and programming applications.
Features and Benefits
• Plastic housing
• SIB series
• Pitch of 2.54 mm
• 20 contacts (male-to-male)
• Single row
• Straight body orientation
• Unshrouded
• Wire to Board connector system
• Through hole mounting
• Solder termination method
• Gold contact plating
RS PRO
RS PRO is our own brand range and brings you a wide range of high-quality, great value products offering you more choice. Trusted by engineers all over the world, every part of every RS PRO product has been rigorously tested against demanding industry standards
they're only given the RS PRO Seal of Approval if we're confident of their exceptional quality, which means you can be confident too.
---
Specificaties
| Kenmerk | Waarde |
| --- | --- |
| Series | SIB |
| Pitch | 2.54mm |
| Number of Contacts | 20 |
| Number of Rows | 1 |
| Body Orientation | Straight |
| Shrouded/Unshrouded | Unshrouded |
| Mounting Type | Through Hole |
| Connector System | Wire to Board |
| Termination Method | Solder |
| Contact Plating | Gold |
| Tail Pin Length | 3.96mm |
| Mating Pin Length | 4.22mm |
40 op voorraad - levertijd is 1
werkdag(en)
(EU-voorraad)
60 op voorraad - levertijd is 3 à 5 werkdagen
(UK-voorraad)
Prijs Each (In a Bag of 20)
Aantal stuks
Per stuk
Per zak*
20 - 480
€ 5,381
€ 107,62
500 - 1480
€ 4,843
€ 96,86
1500 - 3980
€ 4,305
€ 86,10
4000 - 7980
€ 3,767
€ 75,34
8000 +
€ 3,498
€ 69,96
*prijsindicatie