Cynergy3 RSF64 Series Internal Polyphenylene Sulfide Float Switch, Float, 1.5m Cable, Direct Load, 240V ac Max, 120V dc
RS-stocknr.:

211-985

Fabrikantnummer:

RSF64EXS

Fabrikant:

Bekijk alle Float Switches
---
3 op voorraad - levertijd is 1
werkdag(en)
(EU-voorraad)
9 op voorraad - levertijd is 3 à 5 werkdagen
(UK-voorraad)
| | |
| --- | --- |
| Aantal stuks | Per stuk |
| 1 - 4 | 65,78 € |
| 5 - 9 | 63,75 € |
| 10 + | 61,70 € |
RS-stocknr.:

211-985

Fabrikantnummer:

RSF64EXS

Fabrikant:
Wetgeving en conformiteit
---
Productomschrijving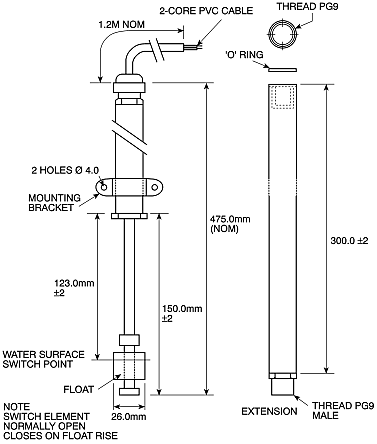 Sensata Cynergy3 Vertical Float Switch, Direct Load, 1.5m - RSF64EXS
Need a space-efficient switch to activate a circuit when your tank is empty? Choose this vertical float switch from Sensata Cynergy3. It's made from polyphenylene sulphide (PPS) for resistance to heat and chemicals, making it a reliable choice for use in demanding applications. The unit is permanently joined to a 300mm PVC (polyvinyl chloride) tube that provides an overall switching depth from 130mm to 423mm. Additional extension tubes can be added to extend the reach of the switch even deeper, making it simple to adjust according to your needs. Use this device in a variety of applications, including sumps, boilers and water wells.
Features and Benefits
• Nitrile gasket provides a secure seal to prevent leaks
• Wide operating temperature range of -20°C to +75°C makes it suitable for use in a range of environments
• 1.5m flying lead allows for flexible connections
• Switching power of up to 25VA with a maximum current of 600mA at 240V AC/120V DC means it can be used for a wide range of loads
How do I install this float switch?
The switch should be mounted vertically in your tank. To ensure safety from electrical hazards, the mounting thread and cable entry should remain above the highest level of liquid at all times.
---
Specificaties
| | |
| --- | --- |
| Kenmerk | Waarde |
| Device Type | Float |
| Mounting Type | Internal |
| Switch Output | Direct Load |
| Body Material | Polyphenylene Sulfide |
| Cable Length | 1.5m |
| Minimum Operating Temperature | -20°C |
| Maximum Operating Temperature | +75°C |
| Maximum AC Voltage | 240V |
| Maximum DC Voltage | 120V |
| Maximum Current | 600 mA |
| Series | RSF64 |