Honeywell GLC Series Roller Plunger Limit Switch, NO/NC, IP66, SPDT 1NO/1NC, Die Cast Zinc Housing, 300V ac Max, 10A Max
RS-stocknr.:

308-1816

Fabrikantnummer:

GLCB01C

Fabrikant:

Bekijk alle Limit Switches
---
26 op voorraad - levertijd is 1
werkdag(en)
(EU-voorraad)
347 op voorraad - levertijd is 3 à 5 werkdagen
(UK-voorraad)
| | |
| --- | --- |
| Aantal stuks | Per stuk |
| 1 + | 84,80 € |
RS-stocknr.:

308-1816

Fabrikantnummer:

GLCB01C

Fabrikant:
Wetgeving en conformiteit
---
Productomschrijving
Honeywell GLC Series and GLD Series Limit Switches
The GLC series and GLD series of limit switches from Honeywell are a compact and versatile solution. The small size of the unit allows you to use them in applications and environments with a limited amount of space. These limit switches are constructed from rugged housing and can operate in severe environments.
Features:
• Control of two separate circuits is maintained by galvanically isolated contacts.
• The NC (normally closed) contacts are direct acting, ensuring they open when actuated.
• GLC and GLD limit switches offer circuit flexibility.
• The use of a dual bearing design for the side rotary actuators enhances the mechanical life of the unit while reducing die loading.
• Able to withstand wash downs, shock and vibrations.
• Reliable and accurate.
• Wide operating temperature range of -40 °C to +85 °C.
• 20 mm to 22 mm mounting holes.
Benefits:
• These limit switches offer an excellent lifespan up to 10 million operations.
• The actuators or heads can be positioned at increments of 90°. This offers you incredible flexibility with your designs and allows you to use these limit switches for a range of environments or applications.
• The side rotary actuator heads can be set for the actuation to be clockwise, anti clockwise or both.
• You can easily customise this range of limit switches due to the modular design of the unit. Bodies, contact blocks and heads can all be adjusted and customised.
• Featuring a removable contact block, these limit switches are incredibly easy to wire up. They are designed for easy installation.
• Various conduit sizes are available allowing these limit switches to be used for global applications.
Product Applications:
Suitable product applications include:
• Elevators
• Scissor lifts and platform lists
• Escalators and moving stairs
• Lift trucks
• Off-road equipment
• Transportation equipment
• Commercial appliances
• Material handling equipment
• Packaging machinery
• Textile machinery
• Construction machinery
• Machine tooling equipment
• Agricultural equipment
What is the difference between the GLC series and the GLD series?
Although models have difference in actuator type, switch type and torque, the main difference between the GLC and GLD series is the housing material. GLC limit switches have a metal housing while GLD limit switches are constructed with plastic housing.
Standards
IEC/EN 60947-5-1
While IEC/EN 609747-1 covers general rules relating to low voltage switchgear and controlgear, IEC/EN 60947-5-1 specifically relates to control circuit devices and switching elements. The standard monitors the characteristics of devices, the electrical and mechanical requirements and the functional requirements.

EN50047
GLC and GLD limit switches are constructed from housing that meets EN50047. EN50047 applies to position switches with an automatic return actuator. Models that meet EN50047 feature standardised characteristics and dimensions (30.5 x 31.1 x 68 mm).

IP 66
A rating of IP 66 ensures that the limit switch units are protected against dust and low-pressure jets of water.

Sealed to NEMA 1, 4, 12, 13
NEMA 1 states that enclosures can be used indoor and offers a degree of protection against contact with the equipment enclosed.
NEMA 4 states that enclosures can be used either indoor or outdoor and provide protection against windblown rain and dust, hose directed water and splashing water.
NEMA 12 states that enclosures are intended for use indoors and offer some protection from dust, dirt, falling dirt and dripping non-corrosive liquids.
NEMA 13 states that enclosures are used indoors and offer a level of protection from oil, non-corrosive coolants, spraying water and dust.
Approvals
Warning
GLC and GLD limit switches are not safety devices. They should be not used as emergency stop or safety devices. They must not be used in applications where personal injury could occur as a result of product failure.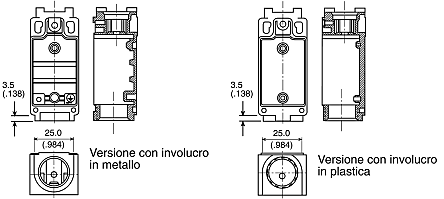 Honeywell Snap Action Roller Plunger Limit Switch, NO/NC, 300 V - GLC Series - GLCB01C
Open and close your circuits safely and reliably with this limit switch from Honeywell. It's designed for position sensing in machinery and has a roller plunger actuator for simple mechanical operation. The contacts are designed for snap-on connections, which allows you to install the component on your equipment simply and securely. The modular design of the switch also means that you can customise it easily, giving you plenty of flexibility in your electrical setup.
Features and Benefits
• Wide operating temperature range of -40°C to +85°C
• IP (ingress protection) 66 rating for protection against dust and low-pressure water jets
• Die-cast zinc housing capable of resisting heavy impact, oxidation and wear, for a long lifespan
Applications
• Lifts and escalators
• Transportation
• Conveyor belts
How often will I have to replace this component?
The switch's mechanical life is around 10 million operations, which ensures minimal maintenance and long service life.
What's the normal status of this switch's contacts?
The switch has NC (normally closed) contacts, which means they'll remain closed unless opened by the actuator.
Approvals
Standards
Approvals
---
Specificaties
| | |
| --- | --- |
| Kenmerk | Waarde |
| Actuator Type | Roller Plunger |
| Pole and Throw Configuration | SPDT 1NO/1NC |
| Normal State Configuration | NO/NC |
| IP Rating | IP66 |
| Maximum Current | 10A |
| Housing Material | Die Cast Zinc |
| Maximum AC Voltage | 300V |
| Maximum DC Voltage | 250V |
| Connection Type | PG13.5 |
| Series | GLC |
| Action Type | Snap Action |
| Length | 68.5mm |
| Width | 30.5mm |
| Maximum Operating Temperature | +85°C |
| Depth | 26.35mm |
| Minimum Operating Temperature | -40°C |
| Operating Force | 16 N |
| Mounting Orientation | EN50047 |
| Mechanical Life | 10000000Cycles |