3M Hemispherical PUR Self Adhesive Feet, 11.2mm diameter x 5mm height
RS-stocknr.:

236-464

Fabrikantnummer:

SJ5003

Fabrikant:

Bekijk alle Anti-Slip Pads
---
334 op voorraad - levertijd is 1
werkdag(en)
(EU-voorraad)
1161 op voorraad - levertijd is 3 à 5 werkdagen
(UK-voorraad)
Bag(s)
Per zak
Per stuk*
1 - 4
5,18 €
0,092 €
5 - 9
5,04 €
0,09 €
10 +
4,85 €
0,087 €
*prijsindicatie
RS-stocknr.:

236-464

Fabrikantnummer:

SJ5003

Fabrikant:
Wetgeving en conformiteit
---
Productomschrijving
Adhesive Bumpers
The 3M range of Bumpon protective moulded shapes are pressure-sensitive, adhesive-backed polyurethane products, offering a high friction coefficient and fast application. The Bumpon range can be used as feet, stops, spacers, and protectors in many applications. These 3M protective bumpon's are made from urethane, a resilient and durable elastomer. The pressure sensitive adhesive is protected with a release liner which allows easy application.
Features and Benefits
• Excellent skid resistance
• Non conductive
• Long aging resiliency – will not crack or harden
• Abrasion resistance
• Resistance to marring and staining
Application
• Feet on the bottom of small appliances, handheld electronic devices, telephones, keyboards, scales, clocks and computers.
• Stops for cabinet doors, lids and drawers.
• Spacers for picture frames to provide alignment and electronic/automotive applications.
• Protectors to prevent damage during shipping.
3M Bumpons can be used anywhere to avoid slamming, scratching, nicking, scuffing, marring, sliding, vibration and noise.
Why choose 3M?
3M are a trusted name in adhesives and workplace safety products. From industrial to office environemnts, 3M combines thier high quality products with RS Components excellent customer service to provide reliable workplace safety solutions when you need it.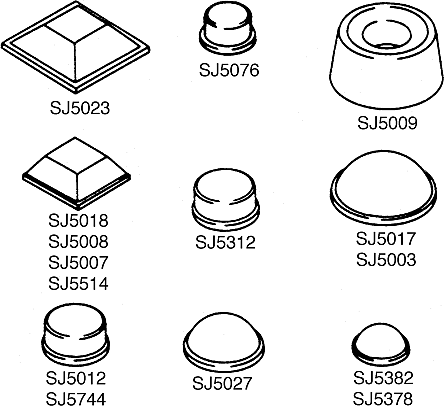 3M Hemispherical Black Self-Adhesive Feet, 5mm Height, 11.2mm Diameter - SJ5003
Use these self-adhesive bumpers from 3M as feet on your electrical appliances to distribute weight and provide grip. They also work well as stoppers to prevent doors from slamming and as spacers to align frames properly. You mount them by simply pressing them onto your preferred surface with your finger. Their durable urethane composition means these feet are very resistant to abrasions and breakage. They also have noise-absorbing properties, which prevents devices from vibrating under heavy use.
• Natural rubber adhesive grips quickly with minimal pressure• 72 Shore M hardness means they are very durable under pressure• Wide (11.2mm) diameter means maximum surface contact for complete adhesion
Applications
• Home appliances• Automotive engineering• Shipping• Consumer electronics
Can I remove these 3M feet after I've attached them to a surface?
Yes – it's possible to remove these feet using simple household materials. You can warm them with a safe and direct heat source like a hairdryer, then slowly peel them off using a flat instrument. Alternatively, remove them by inserting dental floss under the edge and gradually scraping the foot off.




Flexible polyurethane feet suitable for indoor and limited outdoor applications.


Excellent skid resistance with a high coefficient of friction and excellent resistance to moving and staining
Temperature range -34°C to +65°C
Long ageing resiliency and will not crack or harden
Ideal for use on: glass, aluminium, stainless steel, acrylic plastic, polyethylene, polystyrene, ABS, polypropylene and polycarbonate
To ensure maximum adhesion, surfaces must be clean, dry and well unified
---
Specificaties
| | |
| --- | --- |
| Kenmerk | Waarde |
| Shape | Hemispherical |
| Thickness | 5.1mm |
| Colour | Black |
| Diameter | 11.2mm |
| Material | PUR |
| Maximum Operating Temperature | +66°C |
| Series | SJ-5000 |
| Minimum Operating Temperature | -34°C |