RS-stocknr.:

745-8033

Fabrikantnummer:

MOST13-3-A

Fabrikant:
Bekijk alle Flexible Couplings
---
1 op voorraad - levertijd is 1
werkdag(en)
(EU-voorraad)
187 op voorraad - levertijd is 3 à 5 werkdagen
(UK-voorraad)
Bag(s)
Per zak
Per stuk*
1 - 4
€ 34,48
€ 8,62
5 - 9
€ 33,10
€ 8,275
10 +
€ 32,41
€ 8,102
*prijsindicatie
RS-stocknr.:

745-8033

Fabrikantnummer:

MOST13-3-A

Fabrikant:
Wetgeving en conformiteit
---
Productomschrijving
Ruland Oldham Coupling Hub - Set Screw Style
Ruland Set Screw Style Oldham Couplings are ideally suited to enable shafts to be coupled with a small amount of axial and angular misalignment present. Set Screw Style hubs are manufactured from black anodised aluminium, with replaceable centre discs manufactured from acetal or nylon. The three-piece design consists of two hubs linked by a centre torque disc. Oldham couplings are ideal for light industrial and motion control applications, and, due to their unique design, Oldham couplings offer the ability to protect machinery from torque overload forces (acting as torque limiters), with centre discs that are able to break cleanly.
2 Hubs and 1Torque disc required per assembly
Note
Not supplied as a complete unit; 2 Hubs and 1Torque Disc required per assembly.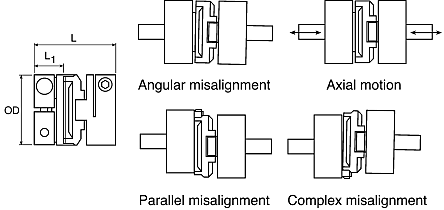 Ruland Oldham Style Couplings


Paradrive™ couplings are ideal for motion control applications, especially those utilising stepper or servo motors. Their low inertia design is ideally suited to higher speed applications and where electrical isolation is also required. Small angular and axial misalignments may be accommodated.


Securing: 13mm and 19mm anodised aluminium hubs are secured to the shafts with one set screw on each end. 33mm, 35mm and 41mm hubs have 2 set screws set 90° apart
---
Specificaties
| Kenmerk | Waarde |
| --- | --- |
| Coupling Types | Oldham Coupling |
| Bore | 3mm |
| Outside Diameter | 13mm |