V12 Footwear Oxen Black Toe Capped Safety Shoes, EU 41, UK 7
RS-stocknr.:

175-7972

Fabrikantnummer:

V6411.01/07

Fabrikant: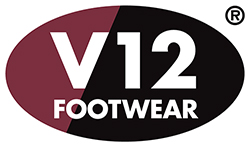 Bekijk alle Safety Shoes
---
Sorry, we konden onze voorraadniveaus nu niet controleren. Probeer de pagina te vernieuwen.
| | |
| --- | --- |
| Pair(s) | Per paar |
| 1 + | 67,70 € |
RS-stocknr.:

175-7972

Fabrikantnummer:

V6411.01/07

Fabrikant:
Wetgeving en conformiteit
---
Productomschrijving
Oxen complements our Otter boot as one of the lightest and most comfortable uniform shoes available. Metal-free, the shoe features a padded top band, a suede leather tongue and is fully lined with moisture-wicking material. In addition, an anti-slip heel lining will provide comfort and stability to the foot. The shoe benefits from the Dual Comfort shock absorbing insole and the new STS rugged sole – working hard so your feet don't have to. Upper: Smooth water resistant leather - durable and breathable. Fully padded collar Lining: Padded, moisture wicking and highly breathable. Cool in summer, warm in winter. Footbed: The dual comfort insole features unique airflow channels to maximise air circulation and reduce heat. With twin antishock foam pods at the heel and the ball of the foot, this insole will provide daylong comfort where you need it most. Toecap: Wide fitting composite non sparking and thermal insulating. Tested to impact of 200 Joules.
---
Specificaties
| | |
| --- | --- |
| Kenmerk | Waarde |
| Shoe Size UK | 7 |
| Shoe Size EU | 41 |
| Colour | Black |
| Safety Toe | Yes |
| Safety Toe Type | Composite |
| Closure Type | Lace Up |
| Water Resistant | Yes |
| Series | Oxen |
| Anti-Static | Yes |
| Anti-Slip | Yes |
| Penetration Resistant | Yes |
| Safety Rating EN ISO 20345 | S3 |
| Upper Material | Leather |
| Midsole Type | Composite |
| Slip Resistance Rating | SRC |